Apple 2023 Event Highlights, What IT Managers Should Know
Recently, Apple held their annual event to unveil a few product updates that generated the normal buzz and water cooler discussions regarding "if it's time to get a new iPhone". Apple also spent a fair amount of time reviewing progress of their sustainability initiatives, robust goals to have all Apple products carbon neutral by the year 2030.
As enterprises evaluate all new device offerings and operating system updates, one key component worthy of mentioning more than just the latest "shiny new device", is whether an organization's mobile devices will be supported by the next operating system update. With iOS 17 just launched, it is important for enterprises to have complete visibility as to which of their devices may not be supported any longer and put a strategy roadmap in place to tackle a mobile device refresh project.
The iPhone 15 series devices and Apple Watch Series 9 have a several new and exciting features, let's explore these and other announcements by Apple to see how they may impact device refresh and mobile upgrade discussions or your mobility program in general.
iPhone 15 Series: Cutting-Edge Performance and Security
The iPhone 15 series takes business mobility to the next level with impressive performance and robust security features.
– A15 Bionic Chip: the new iPhones are powered by the A15 Bionic chip, delivering lightning-fast processing speeds, ideal for running resource-intensive enterprise apps.
– Enhanced Security: Apple continues to prioritize data security. The iPhone 15 Series boasts enhanced Face ID technology and the latest iOS updates, ensuring corporate data is protected.
– Significant Design Changes: the Pro and Pro Max models sport titanium casing, allowing a slimmer overall design. Other changes include advanced 48-megapixel cameras, image stabilization, the dynamic island that features all your alerts and notifications.
– iOS 17: new updates include personalized phone calls, live voicemail, the ability to record a video or audio message when someone misses your FaceTime call, FaceTime to Apple TV, interactive widgets, NameDrop, more accurate autocorrect, enhanced private browsing and more. iOS 17 will be available September 18th for iPhone XS models and newer.
USB-C Charging Cord: Universal Charging for all Apple Devices
Perhaps one of the biggest announcements that directly impacts businesses and consumers alike is Apple's move to a universal charging solution for all Apple devices. No more searching for the correct cable and charger for each device, now all devices can be charged with a USB-C charging cord. Charge your iPhone, iPad, Mac, AirPods or Apple Watch with the same charger!
Apple Watch Series 9: A Smarter Companion for Professionals
While the new Apple Watch is not just for fitness enthusiasts, with many of the newest features it makes it a contender for many business professionals.
– Enhanced Productivity: features a larger, always-on display, making it easier to check notifications, calendar events, and emails on the go, helping employees stay connected and productive.
– Health and Wellness: offers advanced health monitoring features, new Siri health queries for help with analyzing health data, log your health and wellness activity with your voice.
– Apple Watch controlled by gestures: new gesture called Double Tap, just tap index and thumb together twice when your other hand is occupied to perform a variety of functions. Examples include answering and ending calls, playing and pausing music, snoozing alarms, or scrolling through widgets.
– NameDrop: simply share contact data by tapping another Apple Watch.
– Seamless Integration: the Series 9 pairs seamlessly with iPhone and offers features like unlocking your Mac and secure access to apps, streamlining the user experience.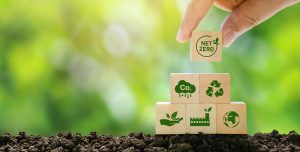 Sustainability Initiatives: Net-Zero Carbon Footprint by 2030
The Apple Watch Series 9 is Apple's first-ever carbon neutral product and the first of many as they move towards a bold strategy to have all Apple products carbon neutral by the year 2030. A new carbon neutral logo is featured on the packaging of Series 9 and Apple will also cease to use leather in their watchbands and product lines. A new recycled material named "fine woven" will be made of 68% post- consumer recycled content.
Apple is committed to sustainability and showcased how they are achieving this from electricity used for manufacturing devices, in how they source materials and through transportation and shipping of their products.
OVATION Wireless has over two decades of experience with helping companies with managing wireless devices and services, including asset management and full project management to determine which devices may be vulnerable to security threats. Contact us today for a no obligation review of your mobility program.