Reclaim your employees' devices and prevent waste
When your employees get a new corporate device, sometimes it can be difficult to ensure their old device is being properly reclaimed. Whether the device is usable and can be retained by your company, or it needs to be recycled, our Reclamation service ensures that there is minimal delay in the process, so you save valuable time and resources.
Improve your e-waste impact while saving on your bottom line:                    
Reuse: Extending the life of devices has the potential to save investment dollars – we can validate the              condition of returned assets to evaluate their potential for reuse
Resell: Every recovered device goes through certified data erasure before being sold for the highest                  available value on the secondary market
Recycle: If there is no remaining life or residual value, the device will be responsibly recycled, keeping              valuable materials out of landfills                      
OVATION's Reclamation as a Service includes: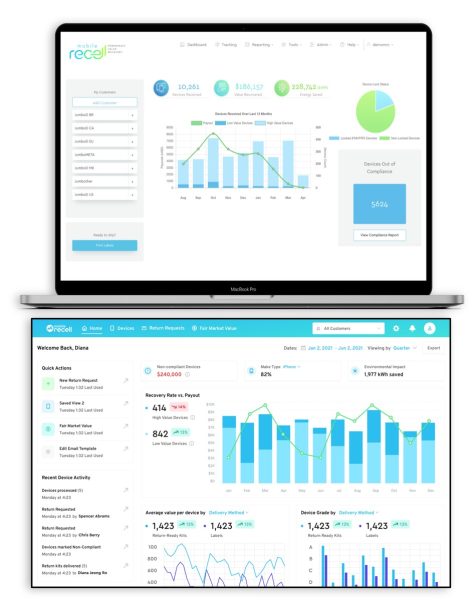 Benefits of our Reclamation as a Service program include:                                                                                                • Gaining detailed program and asset visibility                                                                                                                 • Setting your reporting on autopilot                                                                                                                                   • Ensuring the highest recovery rates possible                                                                                                                 • Implementing a user-centric asset return process                                                                                                         • Incentivizing employees to participate in the circular economy                                                                                 • Celebrating your program's environmental impact                                                                                                         • Capturing maximum value for retired assets
Most device reclamation solutions only see about 30% recovery rate of their employee devices, due to the money per device being the main priority.
Our solution averages a 95% recovery rate by focusing on money per device as well as:                                             • Data Security                                                                                                                                                                         • End User Experience                                                                                                                                                           • Time Recovered                                                                                                                                                                   • Recovery Program Best Tactics                                                                                                                                         • Environmental Regulatory Compliance
Unmatched Experience
A deep level of wireless domain experience, with decades of years combined.
Monthly reporting that protects the privacy of all users while ensuring GDPR compliance.
Mobile and Beyond
Managed services solutions that enable your employees to work the way they want, on any device - securely.
Cost Cutting
A proven and proprietary system to effectively cut wireless expenses 20-40%.
866-207-2111

info@ovationwireless.com