FWA vs. Satellite Internet, How They Differ
 The technology world changes quickly, it wasn't too long ago we were discussing 5G technology and how it would transform mobile communications with lightning fast speeds. Fast forward to today and the internet landscape is looking very different with varied connectivity solutions for businesses and consumers. A range of options for broadband internet and how it is delivered are here, based on your location of course.
Cut the Cord- FWA
Fixed Wireless Access (FWA), actually available since the mid 90's, has become a mainstream service offering recently riding a wave of opportunity. FWA is internet service delivered wirelessly to a fixed point, and has shown to be a reliable solution with many businesses utilizing it either as a primary connection or as a backup to their wired internet.
'Cutting the cord on your internet' became a reality with FWA, and gained popularity during the pandemic, but service is still dependent on your location and proximity to the towers. Users in heavily populated cities with availability of 5G FWA have seen 'the magic happen' when using this technology. While the 5G FWA build out continues by the carriers, bringing 5G to more cities, 4G LTE Fixed Wireless Access offers many benefits to users in rural areas, smaller businesses and Work-from-Home iniatives.  Research by Ericsson shows there were close to 90 million FWA connections by the end of 2021, but forecasts FWA connections to reach almost 230 million by 2027! Enter Satellite Internet into the mix. If Elon Musk can place satellites in orbit to provide internet connectivity to parts of the world, is that a viable solution for us?  Let's explore.
How Satellite Internet Works
Satellite Internet is gaining attention not only with Starlink but also with Amazon recently announcing their plans with Project Kuiper to launch a reliable and affordable broadband service delivered via satellites to unserved and underserved communities around the world. Satellite internet works much the same as satellite TV with a dish mounted to the outside of your home or business. The internet service provider sends satellites up into to space to orbit the Earth and send signals to the receiver dish. An unobstructed view of the sky is needed otherwise the connection can be spotty and there are other weather related events like snow and heavy rain that can affect the service or even produce an outage.
Pros and Cons of Satellite Internet
While there have been improvements in satellite internet, some of the issues it faces are the high latency since the data must travel to outer space. Compared to even 4G LTE FWA low latency, currently satellite internet is not really a consideration unless there are not many other choices. For many in rural areas where fiber and FWA are not options, satellite internet can be a good choice and is straightforward to set up with a provider.
The higher cost of the equipment is also a factor but in situations where there are not many other options, the ability to rent the dish receiver equipment can ease the burden. Speeds for satellite internet range from 12 Mbps up to 100 Mbps with the higher speeds comparable to 4G LTE FWA higher speeds. However, the higher monthly price and long-term contracts for satellite internet make it sometimes the last resort for internet connectivity in many instances.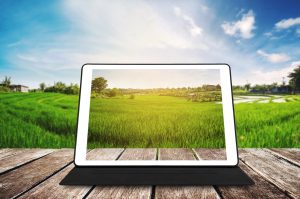 On the Horizon
Several other companies have emerged to the conversation regarding providing internet services to rural and underserved areas including directly from satellites to mobile devices. Think of an advanced "cell tower in space" that will deliver the internet directly to smartphones. Texas based AST SpaceMobile signed a launch contract with SpaceX back in March for their BlueBird satellite, the first cell-phone compatible broadband constellation. After some delays, the launch is expected to take place in 2023. One BlueBird satellite will roughly cover 2.4 million square miles or in comparison about 15 of the largest US states, or half of Europe, or all of India. Previously, AST SpaceMobile discussed plans to launch 110 satellites in low orbit by the end of 2024 that would provide substantial global mobile coverage. Placing the satellites in Earth's low orbit will provide low latency and very fast internet speeds.
Virginia based Lynk Global, has successfully launched their Lynk Tower 1 in April of this year positioning it as the first company to deploy the world's first commercial cell-tower in space. Lynk also has an agreement with SpaceX to launch two more of their satellites for their cell-phone compatible broadband network later this fall. Lynk Global's mission is to close the digital divide and help provide connectivity to for millions of users in remote areas worldwide and will partner with Mobile Network Operators (MNOs) to bring the service to consumers. Initially, the service will deliver a text signal once every hour, and for some consumers in remote areas that is better than no service at all. Lynk's overall strategy is to improve the service level over a period of five years that will ultimately deliver high speed and continuous data, talk and text via a satellite to a smartphone.
As you read above, change is the one constant with internet access technologies and connection options.   Demand will continue to grow to meet the world's ever-increasing thirst for high-speed connections that support an exploding breadth of product and services across almost all industries globally.  While there are promising and exciting options coming with advances with satellite access, today, we see for most locations in the US, FWA as the far superior and less costly option to consider over traditional wireline or cable access. FWA speeds and cost benefits provide consumers and businesses with solutions that can be turned up on a dime with numerus turnkey solutions.
Since 2002, OVATION Wireless has been helping enterprises navigate the world of wireless.  Our professional and managed services can help you to best align your business requirements to best available solution while providing hands-on managed services to deploy and support your wireless devices and infrastructure.  Contact OVATION today to speak with us about FWA and all your wireless needs.