How 5G Technology Will Change the Transportation Industry
The 2017 Federal ELD (Electronic Logging Device) mandate kicked off a massive investment in technology by fleet managers.  Since then, the available telematics technologies go far beyond the compliance requirements of ELD to include fleet safety, optimization, productivity and sustainability. All of these require a strategy incorporating hardware, software and connectivity components. With the rollout of 5G technology, advances in information transmission and processing make for improved utilization of all of these technologies and open the door to new capabilities, helping to deliver goods faster and most importantly, safer.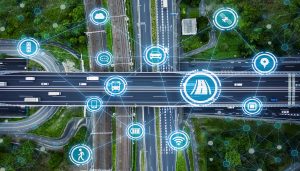 How 5G Changes Things                                                                                                                                                              As 5G technology is rolled out across the nation, it is anticipated to provide end-to-end connectivity across a myriad of communication methods for the transportation industry. Think of having the ability to communicate with everything on the road from a user perspective and also from a transportation infrastructure perspective. 5G technology will impact the transportation industry in many ways, providing increased efficiency across the board. Two of the most important ways 5G will be able to support transportation companies through the IoT (Internet of Things) are vehicle-to-vehicle and vehicle-to-infrastructure.
Vehicle-to-vehicle (V2V): Vehicles relay signals directly to each other
Vehicle-to-infrastructure (V2I): Vehicles communicate with sensors on bridges, roads and traffic lights
Increased Visibility and Control                                                                                                                                          When added to existing network architectures, 5G technology has the potential to deliver increased visibility and control over transportation systems. The low latency, high capacity, and reliability will improve how goods and people travel across the nation. Increased network capacity can provide further visibility into the flow of people and traffic, enabling cities to anticipate transportation needs around large events and other unusual traffic scenarios.
Track Data More Effectively                                                                                                                                                      In addition to this information benefitting cities, 5G technology in the transportation industry will also make it simpler for private fleet owners to get consistent data from their field vehicles. This real-time data will allow them to track location, speed, idle time, fuel consumption, and more. These metrics can be measured in analytics systems to optimize long-term vehicle usage and short-term routing.
Improved Safety and Reliability                                                                                                                                  Increased visibility is also likely to lead to improved safety and reliability for drivers. For both public and private fleets, drivers will be able to stay in contact during emergency situations and stay on top of real-time notifications regarding road conditions. Knowing about road conditions in real time allows drivers to reroute trips in the moment to avoid traffic or potentially dangerous situations.
Other big improvements for safety include Vehicle-to-Pedestrian technologies which could automatically enable cars to stop at pedestrian and traffic crossings and alert pedestrian devices when a vehicle is traveling at unsafe speeds.
Improved Efficiency                                                                                                                                                          Vehicle-to-infrastructure (V2I), as mentioned previously, is another example of improved efficiency that can come from 5G technology and the IoT. V2I can enable vehicles and transportation infrastructure to integrate seamlessly to maximize efficiency for each vehicle on each route. For example, traffic lights can adapt dynamically around traffic flow, adjusting to minimize unnecessary delays. On the highway, groups of connected vehicles can form "mini-clouds," communicating with one another to share information about traffic flow and maintain a consistent distance from each other.
Autonomous Vehicles                                                                                                                                                    Whether you believe it or not, fully autonomous cars and trucks will become a reality in the near future and have the potential to transform the entire transportation industry and supply chain. Smart vehicles will communicate with each other as well as the transportation infrastructure allowing for quick response times to changing road conditions.
For the logistics companies, having a systematic way to deliver goods to customers with improved fuel efficiency and lower emissions will have a profound impact on a company's bottom line. How quickly these autonomous vehicles will come to local roads and highways depends a variety of factors including the speed of developing this technology, adoption of the technology, regulations in the transportation industry and social ramifications.
Carriers to Sunset 3G Soon                                                                                                                                                      In 2017, carriers like AT&T phased out 2G network technology, leading some transportation data to be disrupted. Trucking and logistics companies that rely on 3G cellular devices may soon see a similar disruption as carriers begin to sunset 3G.
Fleets will soon likely need to replace older in-cab communications and tracking systems that may rely on 3G networks. Most major wireless carriers – AT&T, Verizon, and T-Mobile, are planning to sunset 3G in the next year or so. A few steps that trucking and logistics companies can take to get ahead of the sunset are below:
Perform a comprehensive audit to determine what technology needs to be updated or replaced
Evaluate operational requirements to maintain connectivity based on business needs and cellular coverage in operating zones
Design a long-term plan to avoid costly, last-minute updates in the future
Work with a technology partner to minimize the complexity of transitioning to new tech
Designing, deploying and managing telematic solutions, like other wireless devices, requires the right experience, tools and best practices.  OVATION, for 20 years, has been providing thought leadership, best practices and hands on managed services to help enterprises navigate the ins and out of wireless technologies.  Contact OVATION and learn how we can provide clarity and direction with our complete device lifecycle management services.