There has never been more "things" in the ever-expanding Internet of Things (IoT) ecosystem. From smart cities, farm equipment, biometric scanners, logistics tracking, connected appliances to smart dog collars, the world is becoming more interconnected every day.
IoT is a part of our daily lives, from sharing documents, hosting virtual meetings, accessing work data from your personal laptop, and more. The average house has 50 connected devices in 2021. Growth projections indicate today's 35 billion IoT devices will grow to over 75 billion by 2025.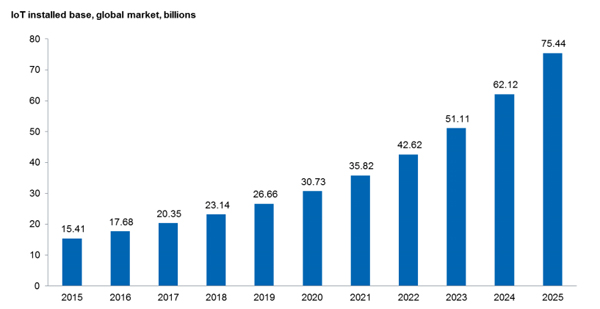 Former Google and Alphabet executive chairman Eric Schmidt made this bold IoT prediction: "The Internet will disappear. There will be so many IP addresses, so many devices, sensors, things that you are wearing, things that you are interacting with, that you won't even sense it. It will be part of your presence all the time."
A few more stats about IoT that may make you scratch your head as you think about all the devices you interact with on a daily basis and their ability to connect to the internet. By 2025 it is estimated that 152,200 devices will be connected to the internet every minute per IDC data. If you do the math, essentially by 2025, nearly 80 billion devices are forecasted to be connected annually.
Currently, 98% of IoT traffic is not encrypted (Palo Alto Networks 2020 Unit 42 IoT Threat Report) and studies have shown that devices are typically attached within 5 minutes (NETSOUT's Threat Intelligence Report) of being connected to the internet. It's easy to see how the sudden existence of our IoT ecosystem presents real challenges for IT managers to ensure their networks and data are secure when other devices connect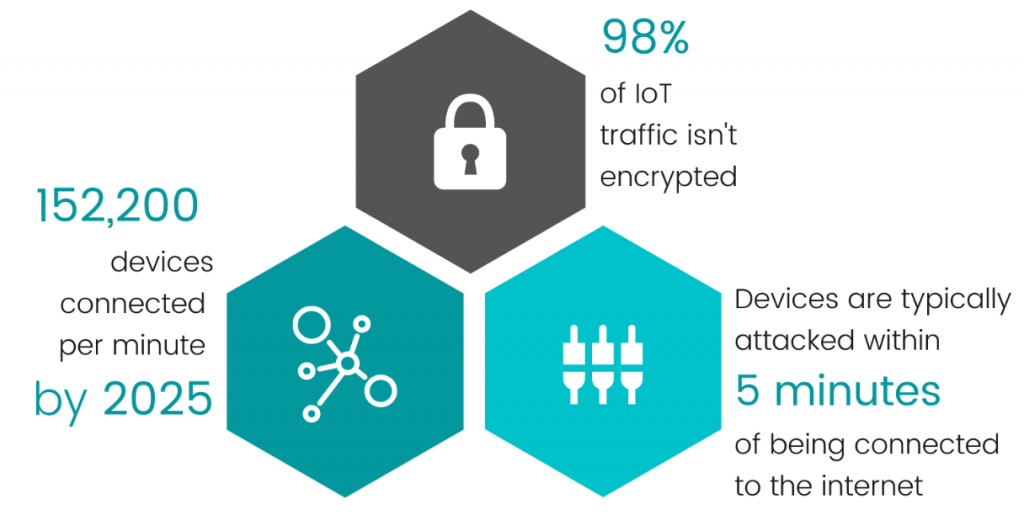 Sources: IDC data, Palo Alto Networks, NETSOUT
Examples of uses of IoT devices include:
Healthcare

Odds are, over the last year you met with your doctor via video chat. The pandemic forced the healthcare industry to find a solution to stay in touch and help patients while not being able to be in the same room with those in need. Not only has IoT affected healthcare in terms of virtual appointments, but also in terms of wearable technology. Smartwatches and wearable health monitors have been able to aid in regular health checkups and increase the amount of knowledge a professional has about their patient. We should expect to see progress in smarter wearable technology and advancements to become even more connected within the healthcare industry

Manufacturing

IoT is at use with smart asset management by using data to track and monitor equipment and production levels. Manufacturers can prevent costly breakdown and improve their production times by having data on all hardware components.

Agriculture

It is anticipated that in the next 30 years the world population will exceed 6 billion, and the incremental throughput needed to produce food for this population is 70%. Incorporating IoT based smart agriculture systems is essential to cope with this need. Some examples of agricultural integration for IoT include:

Real-time crop monitoring

Optimize resource management with smart sensors and motion detectors

Predictive analysis and machine learning

Predict, track, and cope with extreme weather conditions

Livestock management

Detecting infections and tracking flock movements

Drone integration

Air & water quality monitoring, fertilizing crops, etc.

Smart greenhouse solutions

Adjusting climate automatically

Waste management

Insurance

IoT devices, such as in-car sensors, smartphones, and smart appliances, can send insurers data on product usage and driving habits among other behaviors. In turn, this data could be fed into AI algorithms that may allow insurers to offer risk-based pricing and other popular services. This type of technology can help home, auto, and medical insurance providers to use all of the resources at their fingertips and provide the best coverage possible.

Home Automation

As IoT technology grows in increasingly widespread usage, the opportunities for integration in the home are nearly endless. Some uses include smart TVs, smart lighting, thermostats/temperature control, and even controlling blinds on a window. These various programs can be connected into a "routine" – for example, a morning routine. Imagine: when your alarm goes off, the coffee starts brewing, your TV puts on your favorite news channel,
and your bathroom begins heating water for a shower. The possibilities of IoT integration in the home will continue to expand as more and more users adopt this technology.

Automotive/Transportation

Below are five examples of ways IoT technology is being incorporated into the automotive industry:

Fleet and driver management

Monitor driver performance and comply with regulations

Real-time vehicle telematics

Operation information, speed-limit controls, collision notifications, etc.

Cellular vehicle to everything (CV2X)

Speed, traffic, safety alerts
Vehicle-to-vehicle, vehicle-to-network, etc.

Predictive maintenance

Identify parts failure proactively

In-vehicle info/entertainment

Connect Google/Apple apps via owner's smartphone

Energy Sector

By applying IoT technology to energy management, inefficiencies and huge cost savings can be identified. Energy companies will be able to more accurately track inventory, device usage, and even have improved information security. This might look like tracking utilities costs, getting offline data connected via the cloud, and determining old hardware that may need replacing.
Security
Companies must come up with innovative ways to ensure data. IoT has helped mobility management companies with refining security practices, by contributing indispensable statistics and information that are crucial for managing security problems. At OVATION, our Endpoint Management Services includes deploying and managing the best security solutions for your connected devices.
IoT Moving Forward
Bottom line, there is a need for a new kind of device management with all these connected devices. With ever-evolving technologies and new "things" that become a part of IoT, there will be both benefits and risks. For enterprises to succeed they will have to be innovative in how to incorporate IoT devices into their infrastructure to improve business operations that deliver and operate many business practices. Moving forward, having a way to manage and regulate this new IoT ecosystem while having a comprehensive IoT managed services strategy will be key for businesses.
OVATION can significantly help enterprises navigate the IoT world with our Endpoint Management Services. Not only do we provide daily hands-on management of all your devices, but we also design solutions that are unique to your business needs. Our Endpoint Management Services will simplify how you see all your devices working together by putting everything on a single pane of glass.