We love our smartphones and all that they do for us. But have you ever stopped to think about the SIM card inside and all the data it stores? You may only think of your SIM card when it is time to get a new device, but there is a lot more to managing these various types of SIM cards than most people realize, especially for enterprises. Now with eSIM technology and the plethora of IoT devices in our lives, SIM cards are everywhere and an integral part business management.
SIM (Subscriber Identity Module) cards are used to identify and authenticate users on devices such as smartphones and laptops. SIM cards can become complex to manage, particularly on a large scale for enterprise devices where this is no physical card to switch. There are limited resources to help with eSIM card swapping and for businesses that maintain an inventory of devices to use for new employees, it can prove to be a bit of frustration when employees need connectivity now.
With IoT SIMs, businesses require the ability to monitor and manage these SIMs remotely, and in bulk. This is typically offered via UI or API. Some wireless network providers also offer more granular configuration options, like the ability to set data limits across a group of SIMs, or even configure specific network preferences.
This is where the need for a third party arises to manage SIM card support. Whether enterprises are large or small, device SIM cards will need to be managed, activated, deployed, and supported across the board. Additionally, as inventory grows, managing and tracking those assets becomes complicated and time-consuming to do internally. Inventory management can be outsourced to a third-party vendor like OVATION to efficiently track and manage SIM cards and other assets. By tracking SIM card usage, OVATION can help your
enterprise manage consumption and optimize costs and rate plans.
eSIM technology
We're all familiar with the small, plastic SIM card that we have to pop out from our previous phone and insert into our new device to get wireless service. However, with many of the newest smartphones like the iPhone XR, iPhone XS Max, iPhone 11 and 12 series line-up and iPhone SE running iOS 12.1.2 or later, these devices don't come with a physical SIM card but with a eSIM technology instead. eSIM has become a generic term used worldwide to describe a new type of mobile connectivity for consumer and IoT devices, and as the name suggests, the embedded SIM card (or eSIM) is built into the phone's board. Transferring data electronically from one eSIM to another has been another challenge IT Managers have been faced with in the constant changes in mobile equipment and technology.
With eSIM technology, tracked assets can be shipped anywhere and provisioned on any network across the world. There is no longer a need to physically swap SIM cards before and during transit or expensive roaming contracts. Service providers can change network profiles as needed from their management console using remote SIM provisioning (RSP). This greatly simplifies logistics, lowers tracking costs and puts more control in the hands of the application owner. Also, new lower-power cellular M2M modules mean fewer required battery changes in the field.
By eliminating the physical SIM card, eSIM helps designers create much smaller devices or free space for larger batteries and more sensors. For example, eSIM technology transform mHealth devices. A healthcare provider can provision its monitoring devices from a central location, then prescribe them for patients locally. Whether the patient is in a healthcare facility or at home, the device is managed the same way. Devices such as glucose monitors, EKG monitors, fall detectors, AR glasses, and others can be made more secure and use less power.
For eSIM carriers, eSIM is extending mobile connectivity to many new consumer-connected devices, creating new business opportunities.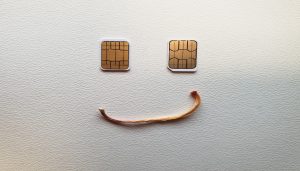 Dual SIM cards
A smartphone or phone that can hold two different SIM cards at the same time is called a Dual SIM device. Having two SIM cards means that a Dual SIM smartphone can use either of the two SIMs to initiate or to receive phone calls. This can be particularly useful for individuals looking to use the same device for work and personal purposes or in situations where the employee may travel internationally. Dual SIM cards present another challenge for IT Managers in the management of inventory and especially when the Dual SIM is used internationally.
SIMs for IoT devices
Managing mobile devices goes far beyond smartphones – with the rapid development in enterprise technology, companies utilize a variety of connected devices: modems, cameras, sensors, wearables, etc. With the explosive growth and potential of the Internet of Things (IoT), SIM cards will need to be managed across all devices.
The IoT market is established for remarkable growth as it scales across more mainstream business use-cases – according to McKinsey, 25% of businesses use IoT technology today, and Gartner projects that the number of IoT devices will increase to 43 billion by 2023. As a result, IoT spending is expected to maintain a double-digit annual growth rate, surpassing the $1 trillion mark in 2022.
Compared to SIMs for smartphones, IoT SIMs require more robust global network coverage. While smartphone SIM cards are typically connected to just one carrier, IoT SIM cards can connect to hundreds of carriers globally. Providers typically enable automatic switching between carriers to ensure seamless connectivity.
Because IoT SIMs have significantly lower data requirements, consumer data plans aren't a good fit for this purpose. Businesses require the ability to share data plans across multiple devices in order to maintain cost efficiencies, while still allowing for variable data usage among a group of devices and SIMs.
Unlike a traditional SIM, an IoT SIM card is designed to send and receive data rather than enable voice calls. With more memory and durability than their consumer counterparts, IoT SIM cards also last longer—up to 10 years or more. They're able to withstand environmental challenges like vibration, corrosion, and extreme temperatures.
Here are some examples of different IoT devices and uses:
Wearables

Smart watches, fitness trackers, and smart glasses

Home automation devices

Smart lighting, thermostat control, windows, fridges and alarms

Agricultural sensors

Livestock tracking and weather and soil monitoring.

Healthcare monitors

Patients' physical data, like blood pressure and heart rate
Doctors can make more informed recommendations remotely

Logistics and fleet management sensors

Allow businesses to track locations and progress in real time.
The global SIM Cards market is valued at 3484.9 million USD in 2020 is expected to reach 3635.6 million USD by the end of 2026, growing at a CAGR of 0.6% during 2021-2026.
Help with SIM cards
For enterprises to effectively manage their SIM population, they need a flexible solution to address common requirements along with configurable service components. Smartphones receive much of the focus today, as they tend to consume large amounts of data, can incur usage costs for international calling and roaming, and have vocal employees attached to them who let you know when there is a problem. IoT devices may or may not consume considerable data, so monitoring and control need to be adjusted based on the specific situation. Monitors and sensors typically consume very low amounts of data while video devices can be some of your largest users of data. IoT devices also won't tell you when there is an issue, they just stop working.
All SIMS need to be inventoried and tracked so that an IT Manager knows where they are and when they're being utilized and so that deployments and swaps can be managed with knowledge and not guesswork.
There is a growing need to proactively manage the various types of SIM cards for your enterprise as part of Managed Mobility Services. OVATION has the tools and experience to manage and implement all SIM card support for your business. Contact us today to find out how you can optimize your time and money spend on device management and SIM card support.