Revolutionizing Connectivity: Satellite Direct-to-Cell Technology
Staying connected is not just a convenience but is more of a necessity these days. With the recent advances in successful transmission of signals from space satellites to smartphones by the likes of AST SpaceMobile (backed by AT&T) and Starlink (Elon Musk and T-Mobile), we all wonder: when will this become a reality?
The intersection of satellite and cell phone technology is an exciting frontier that promises to reshape the way we communicate, especially in areas of limited network infrastructure. When can we expect to be using this type of technology?
The Power of Satellite Connectivity
Firstly, moving cell phone towers up and into orbit around the earth offers the obvious, a global reach and chance to provide coverage in remote and underserved areas. With Apple's iPhone 14 launch back in 2022 and their Emergency SOS safety feature, all the sudden, 'futuristic satellite tech' didn't seem so far out there, and it was a first step in providing some type of communication in remote areas.
Taking it further, we are now seeing plans for satellites to eventually provide not only texting capabilities, but voice and data coverage for areas that before had non-existent cell phone towers: isolated regions, deserts, mountains, jungles, and so on. As these satellite networks start to take shape, one may wonder, will we be able to 'go off the grid' again?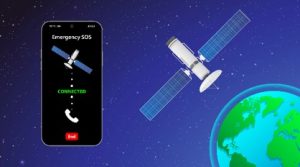 Moving beyond the ability to send an emergency SOS text to communicate with emergency responders, share location information, and request roadside assistance, a direct satellite- to-cell connection looks to be a game changer. There are several instances where direct to cell technology could provide enhanced communications:
Reliability in Crisis Situations – during natural disasters, humanitarian crises or emergency situations, satellite-to-cell offers a reliable communication channel when traditional networks may be compromised or overloaded. Look no further at some of the recent natural disasters like the Maui fires or the war in Ukraine, where cell phone networks were down or destroyed by unforeseen events.
Quick Deployment – satellites can quickly establish connectivity making this an invaluable tool for emergency response teams to coordinate efforts and communicate with the affected populations. In February of 2022, Elon Musk deployed Starlink satellites quickly to allow emergency communications during the conflict in Ukraine, keeping their cities connected.
Maritime and Aviation Connectivity
Having coverage in the open sea or at high altitudes had traditionally been a challenge. If you have ever been on a cruise ship you know what this means. Satellite direct-to- smartphones communication in these two industries provides a lifeline and enhances safety and operational efficiency.
AT&T's recently released AT&T Cruise packages, which allow up to 1GB of data, talk, and unlimited text on over 175 cruise ships. The package activates when a user is 9 to 11 nautical miles from shore.
Cellular connectivity in air travel continues to evolve, especially with the ongoing development of 5G services. "While still in development and testing with multiple technology providers, in-flight could someday offer enhanced connectivity while planes are in transit," said Jerri Traflet, managing partner, retail, travel, distribution domain, at Verizon Wireless. "With high-speed data and communications transmission, 5G could create greater quality streaming services for passengers and increased capabilities for airline staff." [1]
Latest updates for Satellite to Cell Connectivity
Over the last few years, much preparation and testing has taken place in the satellite to direct cell arena with a handful of players.
AST SpaceMobile's goal is to improve internet connectivity globally and they made history earlier this year they made the first ever successful direct 2-way voice call from space to an everyday unmodified smartphone. AST SpaceMobile is paying SpaceX $5 million more to launch its first commercial direct-to-smartphone satellites early next year to a different orbital inclination to improve coverage for a potential customer. AT&T is helping AST SpaceMobile to get the regulatory approval needed to connect mobile customers via satellites when they leave cell service within the US.
Another example of a carrier teaming up with a satellite company is T-Mobile and SpaceX, promising to 'end dead zones', partnering to deploy direct-to-smartphone services using upgraded broadband satellites. There are some concerns about signal interference, which SpaceX says can and will be avoided. Starlink still needs regulatory approval from the FCC to launch the network.
Others in this space include Lynk, and recently new entrant to the satellite-to-mobile category Omnispace. Of course, let's not forget Apple partnered with Globalstar to provide Emergency SOS texting on the iPhone 14 and 15 models.
What this means for Enterprises Smartphones have revolutionized how we communicate. We are all connected to anyone, anywhere at any time, almost, with the exception for remote and desolate areas, open seas, in the air as discussed. The next few years will be pivotal as we move into a new realm of satellite connectivity.
Is your organization prepared to incorporate these new satellite-to-mobile capabilities into your enterprise mobility program? How to allow its use without it becoming a run-a-way costly service? Are there use cases that align to your business? Is there an approval process or business justification to utilize it? Like with new devices, introducing leading edge functionality comes at a cost. Communicating costs and benefits to your business units is key to partnering with managing your wireless program and costs. Since 2002, OVATION has been helping enterprising with their mobility program providing thought leadership along with technology enabled managed services that provide a mature structure, best practices along with visibility and control to improve the overall effectiveness of your mobility program. Contact OVATION today to discuss how we can augment your resources with our Managed Mobility Services. [1] "Five Ways 5G Will Change the Air Travel Experience" Verizon Business, Five Ways 5G Will Change the Air Travel Experience | Verizon Business