The Power of 5G
As 5G technology continues to roll out during 2022, we have been able to see more real-life applications of 5G technology in the world, as well as how telecom carriers see the future of 5G.
5G Rollout Thus Far                                                                                                                                                                  As we move into new ways that 5G will serve us and our communities, here's a quick recap of the 5G rollout so far by each carrier:
Verizon has been aggressively expanding its 5G Ultra Wideband network, which uses a high-band, ultra-wide millimeter wave spectrum to deliver high-speed 5G. After spending $52 billionlast year for the C-band spectrum spanning the US, Verizon has used it to bring 5G Ultra Wideband mobility service to parts of more than 1,700 cities around the US so far, and recently announced plans to cover 175 million people in 2022. This puts Verizon a year ahead of its previously stated goals; covering 175 million people was initially said to be completed "over 2022 and 2023". Additionally, Verizon is offering 5G Home Internet powered by 5G Ultra Wideband, providing a fast and simple alternative to traditional cable.
AT&T has also been planning an aggressive 5G launch and launched their C-Band 5G service in limited parts of 8 metro cities with more starting in the second half of 2022 with a goal of reaching 200 million people by the end of 2023. Additionally, AT&T Business announced it was collaborating with Microsoft to integrate the 5G network with Azure to help enterprises rapidly deploy private networks across the U.S.
T-Mobile established a large lead in 5G rollout due to the purchase of Sprint 2 years ago. Its mid-band 5G network already covers 210 million people, with plans to reach 260 million people by the end of 2022 and 300 million people by the end of 2023.
While we shift from connected thinking to "connected living", some exciting uses of 5G technology include applications to healthcare, driving, and education. 5G presents opportunities to improve efficiencies and safety in key industries which can change the future of each of these sectors.
5G & Healthcare                                                                                                                                                                      One of the major industries that may see a large impact from the implementation of 5G technology is the Healthcare industry. Have you ever waited days, or weeks, for your medical records (like X-Rays) to be delivered to another provider? 5G technology will allow for the sharing of large files and images very quickly, increasing overall patient care.  Some other use cases of 5G that go beyond the health and wellness wearables include:
remote patient monitoring – less trips to the doctor, improved patient care
connected ambulances – streaming real-time patient data to hospitals for rapid assessment, especially in critical cases
digitally encrypted prescriptions – a patient's pacemaker could be adjusted by their doctor without the patient leaving their home
augmented reality – headsets to train and guide medical professionals
remote access to physicians – telehealth appointments for ease of access, no travel required, faster diagnosis
Additionally, 5G has the potential to impact the overall cost of healthcare. By monitoring real-time data, patient information and hospital resources can be leveraged most effectively against budgets.
In this 5G world, hospitals and health systems can use this technology to create customized, flexible training available on their staff's mobile devices. 5G will deliver a handheld simulation center in their pockets with more compute power than all of the world's physical medical training centers combined. In turn, doctors can train collaboratively, earning continuing education (CME) credit, while safely preparing for the most high-risk and difficult situations — situations they otherwise would only encounter on live patients.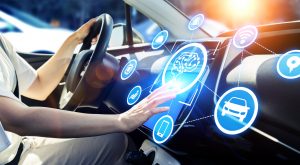 5G & Driving                                                                                                                                                                            Last year, Honda and Verizon announced how they plan to utilize 5G in future vehicles, shown by Honda's Safe Swarm project. The goal of this project is to use Vehicle-to-Everything (V2X) technology to wirelessly communicate between vehicles and avoid collisions. Honda believes that connecting all road users will create a safer environment, mitigating and eventually eliminating traffic fatalities.
Honda and Verizon are also testing how utilizing 5G Ultra-Wideband may reduce the need for artificial intelligence in vehicles. Super-fast, reliable, and low-latency data transmission is essential for connected vehicle safety in the future. Many analysts predict that 1 in every 4 cars will have 5G by 2025 and recent figures published by ABI Research predict a total of 41 million 5G connected cars will be on the road by 2030 and by 2035, 75% of cars will be equipped with 5G connected technology.
Recently Audi and Verizon teamed up to embed 5G technology into a 2024 model Audi car that is expected to provide more personalized content, driver assistance and safety features, and allow your car to talk seamlessly to other 5G cars and infrastructure. The car becomes the mobile device. With all the capabilities of 5G enhanced entertainment, our cars can become an extension of our homes in terms of downloading files faster than ever before, passengers streaming content with high quality images and video.
5G & Education                                                                                                                                                                            In the future of collaborative learning, 5G can help create an integrated education environment. One such example is the 5G Innovation Hub at Arizona State University. The first program to launch out of the 5G Innovation Hub at ASU will be "The Digital Equity Jam" sponsored by Verizon, AWS and Inseego. This program kicked off in early February 2022. Competing teams develop use cases showcasing how Verizon
5G Ultra-Wideband and mobile edge compute can be used to help bridge the digital divide in areas of health, climate, poverty, human rights, and education.
5G use cases being explored will also include a career arcade using VR, where students can experience a day in the life of certain careers. 5G applications are also being tested for athlete performance analytics applications and virtual fighter pilot training.
Overall, the future of education with 5G becomes a more hands-on experience with students able to access lessons and course materials in ways they have never dreamed before.
5G will impact our lives in many ways.  Is your enterprise ready to adapt and utilize the benefits of 5G?  Contact OVATION Wireless to discuss how your organization can proactively plan for the utilization of 5G technology for your employees, your business operations and your customers. 
Since 2002, OVATION has been guiding enterprises with thought leadership and managed services supporting all their connected devices.