Back to the Office… What It Means for Your Enterprise Mobility Management
As companies around the nation have begun to return to their offices after working from home since 2020, there are several unique challenges enterprises will face with the return to work. Many large companies are spreading out which days employees work in the office, keeping occupancy low, or simply maintaining a hybrid-style workplace across the board. We will examine how these changes can have an effect on your overall enterprise mobility management and key factors to note.
With employees bringing their technology back and forth from their homes into the office, IT departments need to be flexible in tracking and managing corporate devices – including security, upgrades, and tech support. In addition, the back and forth of employees may also mean extra attention to usage patterns for mobility. Your enterprise mobility management system may need another wireless optimization review to undersand usage trends and align to optimal rate plans. What became a trend in the beginning and height of the pandemic may not be the case now as employees return to offices, even in a hybrid setting.
Security Risks                                                                                                                                                                          One potential problem that may arise is the distinction between company-issued devices vs. BYOD (Bring Your Own Device). While BYOD can save up-front costs for your enterprise and be more convenient for employees, there are major security risks associated with BYOD. Especially in larger enterprises, the IT team lacks visibility for personal devices, and those devices can pose threats such as out-of-date software or even viruses.
Additionally, it is nearly impossible to ensure all employees are compliant with the latest data protection laws and regulations on their personal devices. The cost of a single security incident can easily exceed the cost savings of BYOD, so it is typically recommended to only use corporate devices, regardless of if employees are home or in the office.
Another security risk to consider when employees move between your secure office network to their home networks is the possibility of hacking an unsecure network. If your enterprise doesn't use cloud services or VPN access, there may be vulnerabilities when your employees are at home.
According to a recent survey, 82% of IT teams experienced an increase in cyber-attacks in 2020, and most experts attribute the increase to remote working during the pandemic. To secure your enterprise devices, you should ensure your employees are trained in device security best practices. Additionally, maintaining up-to-date enterprise devices and consistent IT monitoring will help to prevent security issues.
If your office is operating under a hybrid system of in-office and work-from-home, the best thing to do is ensure there are clear guidelines for employees while they are working from home. The return to the office provides some more security, but ensuring the time spent at home is just as secure is important for enterprise IT departments.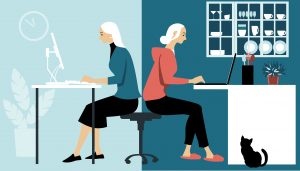 Wireless Optimization of Usage                                                                                                                              Enterprises have also experienced changes in wireless data consumption throughout the pandemic. Now, as we transition to a hybrid working environment, we are like to see further consumption changes until the new normal settles in.  Initially, as working were sent home, some organization has a sharp spike in both requests for new smartphone and MiFi devices and in data consumption.  Other enterprises experienced decreases in in data consumption from seven to ten percent as mobile employees were now stuck at home utilizing their personal Wi-Fi networks.
As changes in where we work unfold, employees will also begin traveling whether it during their commute to and from the office or visiting customers, trade shows and suppliers.  There will be an increase in both domestic and international travel and corresponding wireless usage.  Travelers, especially international, can quickly rack up expensive usage changes if not properly managed
Whatever changes your enterprise experiences, having a comprehensive wireless policy and program in place will position you for success.  Employing a proactive approach to managing security, wireless costs and supporting your employees with wireless devices will yield savings and control no matter what changes you are required to support. In wireless the one thing we can count on is change! Contact OVATION to discuss your current situation and learn about our best practices and how we can help turn chaos into calm.