Dealing with Cyber Threats in a 5G World
Back in early 2020, we were beginning to look seriously at the emergence of 5G technology in the U.S. and around the world. Our piece on '5G Highlights as We Enter 2020' noted that said emergence depended on the availability of networks, and that availability at the time was still evolving, in a sense.
Roughly 18 months on, the 5G technology takeover is in full effect — even if it hasn't represented the sweeping change some expected. As The Verge's post on the "fourth industrial revolution" (as some call 5G) put it, 5G technology is "coming along," but will "materialize more slowly and in less obvious ways" than what many believed or hoped they would see. The networks are here, essentially, but they're not delivering the society-wide tech evolution they might give birth to in time.
Even now though, in what we might call the early days of the 5G revolution, new cyber threats are emerging. These are vast, new, and complex networks, and maintaining and/or dealing with them requires understanding and vigilance. 5G technology is imperative to consider when assessing mobile device security for your enterprise devices.
So, how should you or your company deal with new cyber threats presented by 5G technology transitions? We have a few pointers to offer on the subject.
Make Use of Experts
One good thing that's come out of the growing complexity in cybersecurity is expansion of education — and by extension, expertise. Beyond traditional education (essentially the computer science route in colleges), online courses and degrees that specifically delve into cybersecurity have become quite common. According to a look at online bachelor's degrees in cybersecurity at Maryville University, these educational paths are leading to IT and IT security careers with salaries in the $80k to $105k range as well — which further speaks to why they're attracting so many people.
The result of all this is good news for any individual or company looking to navigate the 5G technology transition. Basically, it means that there are more people than ever on the job market who are specifically educated in the latest in cybersecurity. These people are equipped to handle modern challenges and should be valued for both general insight and hands-on work combatting new threats.
In addition to individual experts, companies like OVATION Wireless Management have years of expertise in the mobility industry and are leading the front lines of mobile device management and security. Contact OVATION to discuss how they can supplement your team with mobility experts to define, implement and manage your mobility program.  Since 2002, OVATION has been supporting enterprises globally with a comprehensive suite of Managed Mobility Services.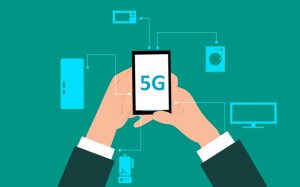 Give Criminals Credit
This may sound like a strange tip. One mistake that's sometimes made in the realm of cybersecurity, however, is the assumption that technology is outpacing crime. What this means in theory is that some might imagine the transition to 5G technology as a form of security in and of itself — advancing networks to a point that cybercriminals are unfamiliar with or unprepared for. While there would seem to be a sort of fundamental logic to this however, things rarely if ever work out this way. History has consistently shown that cybercriminals adapt quickly to new challenges, and, if anything, tend to outpace our protections. For this reason, it's important to give them credit in the sense that you should always assume the risk they pose is present.
Cover More Space
This is a broad suggestion, but it has to do with the fact that the main new cyber threat in a 5G world is simply the size of the idea. 5G networks will be widely distributed, will use new APIs, and will be connected to an ever-expanding world of IoT hardware. Each of these points could support its own essay, but the bottom line is that there are more points of attack within a 5G network than we're used to. For this simple reason, security efforts must be designed to cover more space and handle more types of threats to mobile device security.
See the Big Picture
While this idea is less urgent, it's also wise for anyone confronting 5G cybersecurity to keep an open mind with regard to the future. We alluded already to the idea that 5G technology is still likely in its infancy, and some of the visions for what's ahead are still fairly astounding.
Not long ago, assessments from educators at Coventry University suggested that the "wireless electricity" of Nikola Tesla's dreams may in fact prove to be what 5G technology is inching us closer to. That's only one example, but it speaks to the potential aftermath of a "fourth industrial revolution," and how much it could change our reality. From a cybersecurity perspective, this sort of thing is hard to prepare for precisely. But it is still wise to remain as open and adaptable as possible.
All things considered, it's a very complex topic. Any individual or business confronting 5G technology will have to handle a number of specific concerns and new security efforts. Nevertheless, the tips and ideas above should provide a broad sense of how to approach the emerging cyber threats of the 5G world.
exclusively written for ovationwireless.com By Riley Gardner