Enterprise Device Security and What You Need to Know
Now that much of the corporate workforce is remote at least part of the time, enterprise device security is more important than ever. An enterprise needs robust endpoint management for its devices to ensure accurate and secure management is in place.
When the FBI released its annual Cybercrime Report in late 2020, the agency revealed some alarming results. Over $4.2 billion in losses were reported due to cybercrime, a full 69% increase from the 2019 numbers. Other major data breaches have made headlines in recent years, proving the importance of cybersecurity and device security for enterprises.
According to CheckPoint's Mobile Security Report 2021, nearly every organization (97%) faced mobile threats last year, and 46% of them had to deal with at least one employee downloading a malicious mobile app.
One way your employees may be targeted by malicious senders is via text/SMS messages. Text messages have little authentication – users can't check the domain easily to verify the identity of the sender. Additionally, it is easy for hackers to use randomized phone numbers when sending spam. These messages can contain links that are disguised by shortening it with an URL shortener like bit.ly or similar methods to hide the source.
Encouraging your team to use strong passwords is important to improving your enterprise device security, but it's just the tip of the iceberg. Your enterprise should also employ multi-factor authentication, generating a one-time passcode via text or email. This additional step is required for many enterprises today and has become a standard security practice.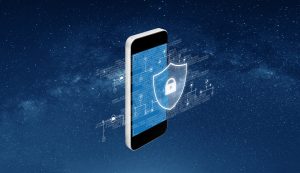 As many employees use their personal mobile devices for their corporate emails and other tasks, device management can be challenging for larger enterprises. If the company does not provide corporate devices to its employees, it may not be possible to restrict suspicious or vulnerable third-party applications, force updates, or lock down devices after security incidents. A clear mobile policy and secure mobile gateways to company materials can mitigate risk on personal devices.
As we have detailed in a previous blog (Android and iOS Updates), keeping your enterprise devices up to date is hugely important to mobile device security. It can be a challenge for enterprises to track all their devices that need upgrades or replacements, which is a perfect opportunity to leverage Unified Endpoint Management (UEM) with a mobility expert like OVATION.
In addition to UEM and Mobile Device Management (MDM) solutions, enterprises should maximize security monitoring through cloud-based tools that can help get ahead of issues before they become a bigger problem. Enterprise mobile device security deployments rely on a continuous approach – when important upgrades arrive. Remember, the teams that react most quickly are also the most secure.
Consider developing a set schedule to implement updates every few months and automate the process when possible. Waiting until a cyber-attack happens to find out if your strategy works can be risky for your enterprise security. Instead, you should conduct regular security audits, and (if needed) hire outside agencies to assess weaknesses in your security defenses.
Navigating the many available options that define a comprehensive mobility program to support your workforce's connected devices that are secure and cost effective takes experience and thought leadership.
Contact OVATION to discuss how we can supplement your team with mobility experts to define, implement and manage your mobility program.  Since 2002, OVATION has been supporting enterprises globally with our comprehensive suite of Managed Mobility Services.