What's New with iOS and Android?
Why Performing Regular Updates is Important
                                                                                                                                                                                              Security breaches have become a constant in our digital world and with employees accessing corporate networks from all their connected devices, outdated operating systems is a critical risk for businesses. Both iOS and Android have many features in their newer updates which are good at addressing security flaws or bugs and enterprises must know how to utilize them. A process to regularly update iOS and Android OS needs to be implemented by each business utilizing policies, communications and Mobile Device Management software if available.
Without a well-managed program, how often your users update their OS then lies within their own control. Some users update as soon as the new version is available, even before checking with IT, and other users may delay or never update it. Having a clear communication plan with your users on how often and which updates are okay to install can be crucial to minimize business disruptions and keep security risks low.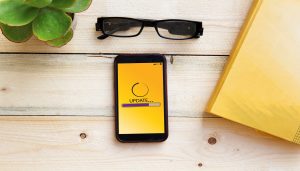 Why update?                                                                                                                                                                    Updates can fix security issues that may have been discovered and remove any bugs. Additionally, software updates can add new features to your devices. When your devices have outdated software, they are more likely to be vulnerable to hackers. These vulnerabilities create opportunities for hackers to write code that is packaged into malware (malicious software). Malware can steal data from your devices or even give attackers control over your files.
Enterprises should weigh the advantages of upgrading to a new OS and should fully test it to see if there are any glitches or issues with the initial upgrade that may have not yet been discovered before communicating the update to their end users. How will the update affect company-developed applications? Will the current devices be supported by the new update? Some updates, such as the one coming for iOS 15, may cause older devices like the iPhone 6, iPad Air 2 and others to become obsolete, and no longer supported by the newer OS. This presents another managed mobility issue to IT; how to refresh to the newest device and iOS for an entire user population.
But for now, let's take a look at all the upcoming updates for Android and iOS.
Android Updates                                                                                                                                                                Android 12's developer preview was released in February 2021, with more versions released in March and April. As soon as the opening keynote for Google I/O ended, Google made the first public beta available to download. The final version of Android 12 is anticipated to be released in September 2021.
So, what's new with Android 12?                                                                                                                                          One of the first updates you may notice is the new lock screen clock. When your phone is clear of notifications, a large digital clock will be in the center of the screen. Additionally, when you swipe to unlock the phone, you'll see a fresh design for the PIN keypad – the buttons are round, large, and pastel-colored.
In addition to the lock screen updates, notification style has changed as well. Now, notifications are automatically grouped per app, and separated out if they aren't conversational. There is also a new 'snooze' button that you can use to snooze specific notifications for a set amount of time.
The Settings menu has been simplified, with larger labels and icons, and the extra subheading listing menu features is no longer there.
Screenshots now have more editing features – the markup option allows you to type text on your screenshots in a variety of font colors, and even add emojis. In addition to screenshots, when sharing an image file, there is a new 'Edit' option that lets you markup photos before sending them.
Another potentially handy feature is one that lets you quickly share your Wi-Fi network details with people in the same room as you. While you could share your Wi-Fi using a QR code before, if you look under that option in Android 12 you will now have an option that says 'Nearby'. Tap on it, turn on Nearby sharing and then it'll look for devices near you to share the details with.
There is also now a one-handed mode you can enable. It made its first appearance in the 2nd developer preview and could make using larger-screened phones a lot easier in the future. Another feature that will make life easier is picture-in-picture controls, which allows you to have a small floating video playing on the phone when you are not in the video app. This feature has existed for a while, but now has controls that make it possible to enlarge the window without going full-screen mode.
To see which Android version you have, follow the steps below:                                                                                              1. Open your Settings app                                                                                                                                                            2. Near the bottom, tap System > Advanced > System update                                                                                              3. See your "Android version" and "Security patch level"
To get the latest updates, tap the update notification and tap the 'update' action.
iOS                                                                                                                                                                                                iOS 14 was launched in September 2020, ahead of the release of the iPhone 12. New versions of Apple's mobile OS typically come once a month; however, iOS 14.5 was a larger update than usual – it took almost three months to arrive.
iOS 14.5 includes the ability to unlock your iPhone with Face ID while wearing a mask, stop apps from tracking you for advertising purposes, and choose from four different Siri voices. The next update, iOS 14.6, appears to be a good deal smaller than 14.5, but has new features to boast as well. iOS 14.6 will include another way to locate Apple's new AirTags trackers and provide high-fidelity Apple Music support, as well as some bug fixes.
And the latest update, iOS 14.6 is now currently available to download if you have a compatible iPhone model. iOS 14.6 is a milestone upgrade compared to earlier updates with new features, bug fixes, enhancements and security patches. Like any new update, corporate users should check with their IT Department to see if the update may cause any issues to the corporate business apps or other undiscovered issues as it is rolled out.
Apple unveiled iOS 15 at its Worldwide Developers Conference June 7-11. Last year's virtual WWDC gave us our first look at iOS 14, iPad OS 14, and MacOS Big Sur. So far the announcements around iOS 15 have included new tricks for FaceTime, iMessage and Apple Maps, new health features, updates to Siri and AirPods and a new iCloud Plus service with enhanced privacy controls.
The final version of iOS 15 is likely to launch in September, along with the iPhone 13. Although the iPhone 12 release was delayed due to the pandemic, we still saw iOS 14 released in September as usual.
Enterprises need a comprehensive mobile policy to address all the support issues around employees' connected devices. Providing employees with specific guidance and instructions is key for them to utilize their devices, applications and enterprise platforms in a secure manner.
OVATION has been helping enterprises manage their mobile devices, users and spend since 2002.  Contact us to learn how we can help you create, implement and manage a comprehensive mobility program.  Our solutions are tailored to each organization's needs and provide hands on managed services globally.