How Wireless Technology Went from 1G to 5G in Five Decades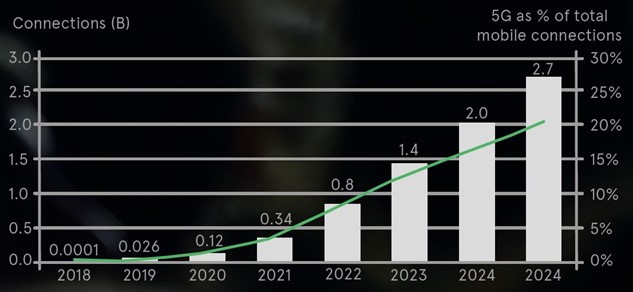 As wireless technology picks up its pace toward 5G implementation on a widespread basis, let's take a look at the History of the G's – from 1G in the late 70s, to the development of 5G, to the potential of 6G tech on the horizon sooner than we may expect.
1G                                                                                                                                                                                      Launched by Nippon Telegraph and Telephone in 1979, 1G wireless technology was first introduced to the citizens of Tokyo, Japan. It was an analog system and offered no data capabilities, but by 1984, the network covered all of Japan, making it the first country to have 1G service nationwide.
It wasn't until March 6, 1983, that Ameritech introduced 1G to the United States. Although the cellphone prototype was made in 1973 (10 years before the North American launch of 1G), Motorola introduced the first commercially available cellphone to the public in 1983 -the DynaTAC.
Based on an analog technology known as Advanced Mobile Phone System (AMPS), 1G networks offered a channel capacity of 30KHz and a speed of 2.4kbps. 1G networks only allowed voice calls to be made, suffered from reliability and signal interference issues and had limited protection against hackers.
2G                                                                                                                                                                                                The 1G network wasn't superseded until 1991, when the first 2G network was launched in Finland. It was based on the emerging GSM (Global System for Mobile Communications, originally Groupe Spécial Mobile) standard, which introduced digital signaling within the radio network. This enabled first circuit-switched mobile data services, such as text messaging (SMS).
Continuous improvement of GSM technology led to the introduction of so-called 2.5G, which incorporated packet switching in the form of GPRS and EDGE technology. 2.5G enabled data-rates up to 144kbps, enabling users to send and receive e-mail messages and browse the web. The first EDGE networks (2.75G) were launched in the U.S. in 2003.
2G provided some significant mobile talk advancements, introducing encrypted calls. 2G also improved sound quality, reducing static and crackling noises while you were talking. 2G's download speeds were also significantly faster (but still incredibly slow by today's standards) than 1G, averaging at about 0.2 Mbps during its lifetime.
3G                                                                                                                                                                                                  As the wireless industry became used to the improved 2G technology, 3G was on the horizon. Deployed for the public in Japan by NTT DoCoMo in 2001, 3G focused on standardizing vendors' network protocol. In turn, users could access data from anywhere, which allowed international roaming services to begin.
The arrival of 3G in the year 2000 heralded a change in the way mobile phones were used and viewed by the end user, becoming less about voice calls, more about social connectivity. The main aim of 3G was to support high-speed data, and the original 3G technology allowed data-rates up to 14Mbps. With its ability to transmit greater amounts of data at higher speeds, 3G enabled users to make video calls, surf the web, share files, play online games, and even watch TV online. Whereas 2G networks would enable a 3-minute MP3 song to be downloaded in around 6-9 minutes, the same file would take anywhere between 11 and 90 seconds to download on a 3G network. Today the most common use for 3G networks is as a backup for 4G, and that will likely be phased out soon.
4G                                                                                                                                                                                              The introduction of 4G really ushered in the era of the smartphone and hand-held mobile device to the wireless industry. However, when 4G first started, it wasn't actually 4G. When the ITU-R set the required minimum speeds for 4G (12.5 Mbps), it wasn't attainable at the time. In response to the amount of money that tech manufacturers were putting into achieving this goal, the ITU-R decided that LTE (Long-term evolution) could be labelled as 4G – but only if it provided a significant improvement over 3G. 4G was the first generation to use LTE technology to deliver theoretical download speeds of between 10Mbps and 1Gbps, offering end users better latency (less buffering), improved voice quality, instant messaging services and social media.
5G                                                                                                                                                                                      Realizing that 4G/LTE networks will ultimately reach capacity, the International Telecommunications Union, (ITU) defined the requirements specification for 5G networking in 2015. Where 3G and 4G networking were focused on voice and data services and are mainly associated with the smartphone, 5G networking offers much more, promising to enable the inter-connection of billions of devices of almost any kind. More than a faster wireless capability, 5G promises to transform existing consumer, business, and industrial processes, unlocking new levels of productivity and innovation and driving the next wave of global economic growth.
The 5G roll-out has only just begun but, with operators poised to invest in the infrastructure required to unlock the full power of 5G, the global economy stands on the verge of the next wave of growth. Since the first 5G services were launched in the USA by Verizon and AT&T, 5G networks have been rolled out in a further 17 countries with South Korea, the United Kingdom, Germany, and the United States leading the charge and China catching up fast.
Retiring 3G                                                                                                                                                                                    In the wireless industry, most carriers have already stated that they are no longer activating new 3G devices, with the assumption that most customers will upgrade their device at some point before 3G service ends completely.
The end is coming for 3G service in the US with AT&T planning to turn off its 3G service in February 2022, while Verizon 3G will end for commercial and government fleet customers at the end of 2022. T-Mobile is expected to start shutting its 3G network in the last quarter of this year and to continue the process through the end of 2022.
TechRepublic estimates roughly 30 million people in the U.S. are still using 3G on about 80 million devices, including many original IoT devices like emergency alert devices, telematics systems and fleet management electronic logging devices.  These will all have to be upgrades or will cease to function once 3G is turned off.
What devices do you have that run on 3G?
6G                                                                                                                                                                                              With 5G technology just beginning to be rolled out around the world, the industry has already started looking ahead to the future of 6G. The exact standard behind 6G networking hasn't been established yet, and we're still years away from its rollout, but there are several technologies that will shape the 6G infrastructure already being developed.
The exact rollout of the 6G infrastructure is dependent upon the ITU, which is currently working on defining its vision for the next generation of tech. It's expected that the framework for 6G will be completed by 2028 and the first 6G products will start appearing around the end of this decade. Full deployment to consumers likely won't happen until 2030 or later. If you hear a company claim they are using 6G technology before those dates, it's likely a marketing ploy, not real 6G.
Dr. Mahyar Shirvanimoghaddam, from the University of Sydney, has claimed that 6G could deliver mind-boggling speeds of 1TB per second, enough to download 142 hours of Netflix movies in one second. Speeds that fast could not only enhance the technology expected to emerge from 5G — such as autonomous cars and smart cities — but may also allow sci-fi applications like the integration of our brains with computers and sensory interfaces that feel and look just like real life.
As wireless technology continues to change, consumers and providers alike will adapt and grow into the new tech offerings around the corner.
Contact OVATION to learn more about how we can help manage your wireless devices and spend.  Since 2002, we have been helping enterprises design and implement comprehensive global mobile programs with our Managed Mobility and Endpoint Management Services.