Reclamation of IT Assets and Why it Matters
More than Recycling for your Enterprise
In today's world, IT departments are faced with many security challenges as IT managers are tasked with running an efficient program, maintaining the security of all company data, safeguarding all systems to be operational while minimizing the never-ending onslaught of threats and risks.                                                                              Cybersecurity, staying abreast of emerging new technologies such as AI and Virtual Reality, implementing digital transformation, cloud computing and automation for both an onsite and a remote workforce, are just a few of the everyday duties for IT. Now add in a large mobile device refresh project to the mix. With our sophisticated devices and systems, when it comes to disposing of the old IT asset, a software driven Reclamation as Service far surpasses the typical Recycle process.
Low IT Asset Recovery Rates                                                                                                                                                When your IT department needs to upgrade the mobile devices of 1,500 employees due to a newly discovered incompatibility issue with a particular device's operating system. Ordering the new devices with the correct services, applications and accessories is just part of the equation. Deploying all devices to 1,500 employees, with a portion of those employees that work remotely is another facet and a logistical exercise in itself. Then comes the task and communication to each employee of setting up the new device and making sure it is operational while minimizing business disruptions.                                                                                                                                     
However, what about the return and safe disposal of the old device? What percent of devices does your company have returned to the IT department as communicated and planned through your project plan? This number may surprise you. We typically see reclamation rates less than 50%.                                                                                     
Most companies that have recycled IT assets are all too familiar with the challenges they face when it comes to recovering the IT asset. Did the employee leave unexpectedly and never return the device? Did they leave it in a desk drawer? How many months of calls, emails, and using manual spreadsheets does the project team work to recover back the old IT assets? How vulnerable is the company now that 50% or more of the devices are not returned to IT and the devices have corporate emails and data sitting on them? Even with a MDM solution to wipe the devices remotely, what other pitfalls exist when corporate owned IT assets are not fully recovered and recycled properly?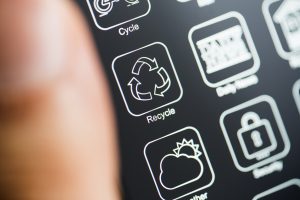 Reclamation as a Service                                                                                                                                                            Due to environmental regulations, privacy laws, software license regulations and more, recycling IT assets properly to keep them off eBay and out of the landfills requires companies spend much thought and time in determining how to recover and recycle their IT assets.
The final piece and perhaps the most important in a large device refresh project is recovering the old asset. This part has many steps:
compliance with a device return policy
safely and properly disposing of it to ensure your company's data is secure
recovering the maximum value for the devices
provide a sustainable solution by reselling, reusing and recycling to help your company's green initiatives                                                                                                                                                                                                                    Putting a process in place to ensure 95% + of your mobile assets are returned takes more than a project team and a well thought-out project plan with effective communication within the organization. Think of reverse logistics. It takes automation, software and an experienced lifecycle management process to effectively track each step in the journey of a mobile device from procurement all the way to recovery and recycle.                                                                                                                                                                                                                            Contact OVATION Wireless for help with your next mobile device refresh project and to learn more in how we help companies do more than recycle their IT assets. OVATION utilizes a proven Reclamation as a Service approach providing a full lifecycle management and complete visibility of all assets and funds received while maintaining data security and a friendly environmental sustainable solution.