Technology Trends for 2023
Since the onset of the pandemic nearly three years ago, much of the digital transformation has been fueled and accelerated by our need to pivot to virtual/hybrid work environments. Businesses across the globe adapted and used technology to stay connected as social distancing measures were in place.  Post- pandemic, we notice many technology shifts have continued and have actually become more of the norm (remote work, telehealth applications, virtual workspaces/meetings, online shopping, increased demand for streaming services).
As we look ahead to this New Year, several technology trends will become key as we move into the next phase of innovation.
Smart Connected Devices                                                                                                                                                      We are all familiar with connected devices, also known as the Internet of Things (IoT), and as we enter a new year these devices will become smarter powered by 5G networks, AI and VR. For example, a smart thermostat might be able to adjust the temperature in a room based on the weather outside, or a home security camera might be able to automatically alert the authorities in the event of an intruder.
Our houses and workplaces are getting smarter and smarter. For the home front, you are not viewed at as nerdy if you have any or all the following: video doorbell, robot vacuum, robot lawnmower, pet camera, smart air purifier, virtual assistants to order supplies before you run out, several smart appliances and the list goes on and on.
We have seen the rapid growth of connected devices driven by advances in Artificial Intelligence (AI) and other technologies. In 2023, we can expect to see even more widespread adoption of IoT devices and further integration of AI into these systems. The Consumer Electronics Show in January of 2023 will highlight the latest tech, connected devices and innovations we won't be able to live without, or so they hope.
Artificial Intelligence and Virtual Reality (AI and VR)                                                                                                            If you have ever played around with some of the AI writing assistants, you've quickly noted how interesting it is to see how these computers can quickly train, learn, analyze and create large volumes of output, perhaps replacing manual tasks we as humans perform. Artificial Intelligence in 2023 will start to become easily accessible for all, with a host of new apps and easy to use interfaces. AI will become much more sophisticated moving from predictive text and virtual assistants, into more creative and human like experiences.
Generative AI algorithms will advance this year as they take data (computer code, video, sounds and more) and create entirely new content that has not been seen in the digital world. With the recent introduction of GPT-3, developed by OpenAI, tens of thousands of developers are now building upon this AI platform that allows content creation that may be indistinguishable from content created by humans.
2023 has been termed the Year of Virtual Reality according to Deloitte and their Technology, Media & Telecommunications 2023 Predictions report. The VR market will increase by 50% from 2022 with a large part of that trend going to VR helmets and the next progression of VR headsets. The healthcare industry in particular has keen interest in VR helmets as objects are studied closely for medical research and practice. The oil and gas industries use VR as well in order to provide safety trainings and "what-if scenarios" to identify problems ahead of time in a virtual and safe setting.
The future of AI and VR also has the power to help companies understand how their products and services impact the environment by manufacturing in a way that is more energy efficient and reduces waste. Look for these technologies to spill over into environmental sustainability initiatives and become more than improving functions in corporate businesses.
Private 5G Networks                                                                                                                                                            Many forward-looking enterprises are exploring how private cellular networks (private 5G networks) can create more value for their organizations.
The ease and cost of building private 5G networks are improving rapidly as technologies and ecosystems mature. Even so, a single application rarely justifies the initial investment. The return on investment can improve exponentially as enterprises add more applications to the base network. Private 5G networks create a flexible platform for innovation since they can support multiple applications with very different requirements including drone-based inspection or delivery systems, digital twin optimization tools, camera-based asset tracking and security solutions, and other demanding, time-sensitive applications as needed over time.
There is always a leap of faith with any new cutting-edge technology. Yet, there are also believers with the confidence to push forward and create a better future for their organizations. Private 5G networks can help provide that foundation for sustainable competitive advantage.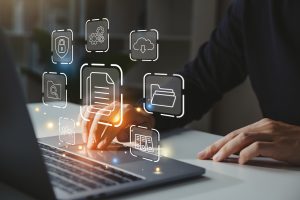 Edge Computing                                                                                                                                                                      One of the drivers of Private 5G Networks is the continued development of edge computing. Edge computing refers to the practice of performing data processing and analysis at the edge of a network, closer to the source of the data. This is in contrast to traditional cloud computing, which relies on centralized data centers.
By performing data processing and analysis at the edge of the network, edge computing allows for faster and more efficient analysis of data from connected devices. This is particularly useful for applications that require real-time processing, such as autonomous vehicles and smart cities.
So what exactly will edge computing do for us in 2023? Here are a few top examples:
Autonomous Vehicles – when paired with edge computing sensors can gauge location, traffic and safety conditions and share data with other vehicles
Security and Workplace Safety – think of biometric scanners (both audio and video) that process real time info to let the appropriate personnel into a building
Machine Automation – with edge computing, predictive maintenance and energy efficiency are greatly improved as businesses can learn what works well and what does not
In 2023, we can expect to see more widespread adoption of edge computing in these and other applications.
Bringing It All In Focus                                                                                                                                                    Overall, this next year is shaping up to be an exciting one for AI, Virtual Reality, 5G and all things technology. As these technologies continue to advance, we can expect to see more intelligent and autonomous devices, faster and more efficient data processing, and a whole range of new applications and possibilities.
Since 2002, OVATION has been helping enterprises navigate the connected world with our deep knowledge in wireless technologies, thought leadership and managed services.  As you look to explore and improve your utilization of wireless technologies and management practices, OVATION can provide the guidance and leadership that drives a successful deployment in a cost-effective manner.  Contact OVATION today to discuss your wireless priorities and objectives.